One On One Driver Instruction
Course Highlights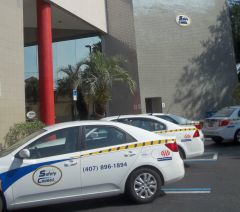 Great for new drivers of all skill levels.

Real world driving experience.
Excellent preperation for the driver's license skills test.
Vehicle and insurance provided by us.
Taught by State of Florida certified driving instructors.
Driver training offered throughout Central Florida.
1 on 1 Driver's Ed Course Format
The Florida Safety Council's in the car training program is designed for drivers of all ages in pursuit of a Florida Driver's License, or simply in car driving instruction as a refresher. This One-On-One, personalized, hands-on training course is formatted to educate and train individuals in defensive driving techniques. This will prepare drivers for the Driver's License skills test. Training is available 7 days a week.
Goal of 1 on 1 Driver Education
The goal of the Florida Safety Council's Driver Education program is to develop the knowledge base and skills needed to safely, legally, and economically operate a motor vehicle. An emphasis is placed on proper and timely decision making, and risk management skills. For teen drivers we also recommend taking our 30+6 Drivers Education Program - which includes an updated high tech version of thier parent's Drivers Ed.
1 on 1 Drivers Education Registration
You can register for the lesson over the telephone by calling 800-372-3335 and asking for "Driver's Education." In the Greater Orlando area, dial direct to 407-897-4439. For Brevard County dial 321-631-2347. Registration may be completed over the phone with a debit or credit card. You may also come in person to register and pre-pay with a credit card, cash or a money order. Lessons times are scheduled at the time of payment. Our driver Education department staff will be able to also discuss the more in-depth 30+6 Drivers Education Program.
Frequently Asked Questions about our Drivers Education Course
Who will teach the Driver Education course?
The Florida Safety Council is a not-for-profit organization, and has been providing education and training services in Florida since 1953. We focus on reliability and excellence. This lesson is taught by a professionally certified, State of Florida approved instructor. Each instructor has undergone extensive training in various levels of driver's education, as well as background screenings.
What types of vehicles will the student learn to drive in?
The Florida Safety Council provides late-model sedans equipped with dual control brakes and automatic transmissions. The vehicles are setup with a dual brake system which keeps students safe, and provides instructors more opportunity to direct the student driver, allowing student drivers to learn faster.
Are students required to have a valid Florida license?
Students must obtain a restricted drivers license / learner's license prior to the start of their first lesson. A Florida learner's license can be obtained after completing the Drug, Alcohol and Traffic Law Class for First Time Driver. Additional information about Florida learner's license can be found in the Florida DMSMV Driver's Handbook. Out of state license and International license are acceptable.
Are students insured in case of an accident?
The Florida Safety Council would like to make this process easy and convenient for you so we provide all insurance for the student driver, the instructor, and the vehicle. The student is fully covered so it is not necessary to obtain any additional motor vehicle insurance when in training session with us.
How will the student get to the driving lesson?
The student is responsible for his or her own transportation to and from the office.
What are the course fees or price for driving lessons?
The number of lessons required may vary from person to person. Please contact one of our Safety Council offices to discuss your individual needs. Students can monitor their own progress as they go and determine if further lessons are needed with instructor input. Most students find 3 lessons to be a good starting point in their driver training. Payment may be made over the phone with a debit or credit card. You may also come in person to register and pre-pay with credit card, cash or money order and then report to lessons on the scheduled date. For more information about fees call today.
Is there a written test?
In order to obtain your Florida Driver license you must successfully pass the DHSMV General Knowledge, and Road Signs skills test. You must however first take and complete the 4 hour Drug, Alcohol and Traffic Law Class for First Time Driver in order to receive the Certificate of Completion required for the pre-test qualification.
Is there a discount on auto insurance?
Six hours or more of driving lessons may qualify for an auto insurance discount. Each student should check with their insurance agent to see if they qualify for an auto insurance discount upon completion of a specified number of behind the wheel sessions/hours.
How to use this page
Course Information: Please read all facts included on the page pertaining to the course that you wish to complete. Note: You may see two buttons. One labeled with
for "live" and one labeled
for "online". Live classes are conducted at a Safety Council office, in a classroom. Online classes are taken completely online, offering you the convenience of "at home" training.
*Pricing may vary between online and live courses.
Courses & Services Navigation